When it comes to writing fiction, descriptive language is a powerful tool that can bring characters and settings to life.
By using evocative and vivid language, writers can create a rich experience that draws the reader into the story.
In this blog, we'll explore how the art of descriptive writing can be used to create effective fictional characters and settings. You'll find practical tips and insights to help you use descriptive language to its fullest potential.
So let's dive in and discover the magic of descriptive writing in fiction!

What is Descriptive Writing in Fiction?
Descriptive essays are often used by writers to create a sensory experience by using detailed and vivid language. 
Descriptive writing in literature involves describing characters, settings, events, and emotions in a way that engages the reader's senses and imagination. 
Effective descriptions are a powerful and effective way of bringing your story to life. Descriptive details can help to create an immersive experience for the reader. Which allows them to fully engage with the story and its characters.

The Importance of Descriptive Language in Fiction
Descriptive language is a critical element of fiction writing as creates vivid and engaging characters and settings. Here's why it's important:
Using detailed and specific language is necessary to make the reader visualize a scene or character.  
Using illustrative language provides the reader with a clear sense of the character's appearance, personality, and behavior. 
In addition to creating compelling characters, descriptive language also needs to be used to develop rich and vivid settings. By painting a picture of the story's environment, a writer can transport the reader to another time and place.
The success of many popular novels and short stories can be attributed to the effective use of descriptive language.
For example, 
F. Scott Fitzgerald's novel, The Great Gatsby, is renowned for its evocative descriptions. Fitzgerald uses of descriptive language to depict opulent parties and luxurious homes of the wealthy elite in 1920s America. 
So, the effective use of descriptive writing in fiction is an essential factor in its success.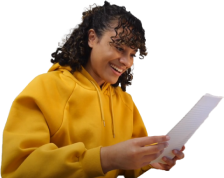 Tough Essay Due? Hire Tough Writers!
Creating Effective Characters With Descriptive Language
There are several aspects of fictional characters that can be enhanced through the use of descriptive writing.
Let's see how you can create better characters through descriptive language:
Physical Appearance
One way that descriptive language can reveal a character's personality is by describing their physical appearance. 
For example, 
A character's "crooked smile" or "piercing blue eyes" can communicate something about their personality or temperament. 
Similarly, the way a character dresses or carries themselves also reveals important facts about their personality and background. By using descriptive language to present a character's appearance, writers can create a vivid character that feels real to the reader.
Behavior and Personality Traits
In addition to physical appearance, descriptive language can also be used to reveal a character's behavior and personality traits. 
For example, 
A character who is constantly tapping their foot or fidgeting with their hair might be interpreted as anxious or nervous. While a character who speaks confidently and authoritatively might be perceived as more self-assured. 
By using descriptive language to reveal such details about a character, writers can create nuanced and complex characters. Making them more engaging and relatable to the reader.
Using Sensory Details
One effective way to use descriptive language to create unique and memorable characters is to use sensory details. By using sensory language to describe a character's surroundings, behavior, or appearance, writers can create an effective story. 
For example, 
A character having a "smoky, whiskey voice" or "calloused hands" might feel more real and tangible to the reader. 
Similarly, you can use descriptive language to evoke the sounds, smells, and textures of a character's environment. This would help create a more vivid and memorable experience for the reader.
By using descriptive writing, you can create characters that readers will remember long after they finish the book.
Developing Compelling Settings With Descriptive Language
Descriptive writing plays a major role in defining the background and settings of a story. 
Here is how you use descriptive writing to craft vivid settings for your story:
Creating Mood and Atmosphere
Writers can use descriptive language to create a mood or atmosphere that reflects the story's theme or tone. 
For example, 
A writer might use dark, foreboding descriptions to create a sense of tension and suspense in a horror story. On the other hand, you would use bright, cheerful descriptions to create a sense of joy in a romance novel.
Using Metaphors and Similies
Another way that descriptive language can help create a compelling setting is by using metaphors and similes. 
Metaphors and similes are comparisons that can be used to evoke a particular mood or atmosphere. 
For example, 
You can describe a city as a living, breathing organism, with the streets and buildings pulsing with life and energy.
Using Sensory Descriptions
One of the most effective ways that descriptive language can help create an immersive setting is by using sensory details. By using specific details, writers can create a rich and immersive environment that engages the reader's imagination. 
For example, 
If a writer wanted to describe a forest setting, they might use descriptive language to describe: 
The smell of damp earth 
The feel of the cool breeze on the skin 
And the sight of sunlight filtering through the trees.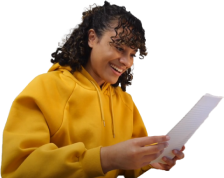 Paper Due? Why Suffer? That's our Job!
Tips for Using Descriptive Writing in Fiction Effectively
It's important to use it effectively in order to enhance the story rather than detract from it. Here are some tips for using descriptive language effectively:

While sight is often the most commonly used sense in descriptive language, don't neglect the other senses. For instance, smell, taste, sound, and touch. 
Using a variety of senses can make the setting or character feel more vivid and realistic.
Use Descriptive Language to Create Conflict 
Descriptive language can be used to create tension and conflict in a story by emphasizing contrasts and contradictions. For example, 
Describing a calm and peaceful setting just before a sudden and violent event can create a sense of tension and anticipation.

Use Descriptive Language Appropriately
While descriptive language is helpful in creating immersive settings and compelling characters, overusing it can bog down the story. It can make the story feel slow and tedious. 
Use descriptive language only when it's necessary to create a specific effect or atmosphere.

Descriptive language should be unique and specific to your story, so avoid relying on tired and overused phrases.

Don't Sacrifice Clarity for the Sake of Description
Detailed descriptions of settings or characters could sometimes detract from the clarity of the story. It can make it difficult for readers to follow what's happening.
So be clear and concise while describing your characters or environment.
To Sum Up,
Descriptive language is an essential part of creating compelling fiction. Whether you're describing a character or painting a picture of a detailed setting, descriptive skills come in handy.
As with any writing technique, using descriptive language requires practice and skill. By following the tips outlined in this blog, you can use descriptive language effectively to enhance your stories. 
So use these tips to take your readers on a journey that will stay with them long after they've finished reading. 
Not sure how to begin your descriptive writing journey? Don't worry, expert descriptive essay writing help is just a click away!
At TheEssayWritingService.com, we provide professional writing services at affordable prices. So hire a professional today to get the assistance you need to begin your writing journey with confidence.