In this fast-paced world, we all rely on the internet for answers, but how do we know if what we find is reliable?
It is critical for students to learn to distinguish between fact and fiction.
The consequences of trusting misleading information can be significant, influencing our decisions and beliefs, even shaping our society.
In this blog, we will understand how to master the skill of assessing the credibility of sources in annotated bibliography writing.
We will discuss essential tips to confidently navigate information. We will also share the techniques to avoid unreliable information.
Let's get started!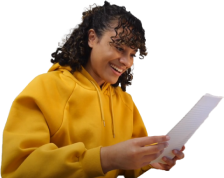 Paper Due? Why Suffer? That's our Job!
Tip#1: Check the Author and Publisher 
Investigate the background, expertise, and reputation of the author or organization providing the information. 
Look for their qualifications, experience, and affiliations. Authors with relevant expertise and reputable publishers are more likely to offer accurate and reliable content.
Tip # 2: Look for Citations and References 
Reliable sources should cite their information and provide references to credible and authoritative sources that support their claims. 
Check these citations and cross references to verify the accuracy and legitimacy of the information presented.
Tip # 3: Examine the Date and Currency 
Ensure that the information is current and relevant to your needs. Outdated data may not reflect the latest knowledge or may have been replaced by more recent findings. 
Check for publication dates and consider whether the information is still applicable.
Tip # 4: Consider the Website Domain 
Assess the credibility of the website hosting the information. 
Government (.gov), educational institutions (.edu), and established organizations (.org) generally adhere to higher standards of accuracy and reliability.
On the other hand, personal blogs or commercial sites (.com) use individual opinions. 
However, keep in mind that domain alone is not a guarantee of credibility, and you should still verify the content.
Tip # 5: Evaluate the Writing Style and Tone 
Reliable sources maintain a professional and unbiased tone when presenting information. Be cautious of sources that use extreme language, express strong biases, or resort to emotional appeals. 
Objectivity and neutrality are essential qualities of trustworthy content.
Tip # 6: Cross-Check with Other Sources 
Verify the information by comparing it with multiple reputable sources. Consistency among different sources enhances the credibility of the information. 
If several reliable sources confirm the same information, it increases the likelihood of accuracy.
Tip # 7: Look for Peer Review and Editorial Process
For academic or scientific information, check if the content has undergone a peer-review process. 
Peer-reviewed articles and academic publishings have been critically evaluated by experts in the field, adding credibility to their content. Well-edited content on other platforms can also indicate a higher level of reliability.
Tip # 8: Beware of Clickbait and Sensationalism 
Be cautious of sources that use sensational headlines or make extraordinary claims to attract attention. Such practices are often used to generate clicks and views rather than provide accurate information.
Tip # 9: Fact-Checking Tools 
Use fact-checking websites and tools to verify the accuracy of the information before relying on it. Fact-checkers scrutinize claims and verify their validity, helping you distinguish between truth and falsehood.
Tip # 10: Consider the Bias 
Recognize that all sources may have some degree of bias, whether political, ideological, or commercial. 
Be aware of potential biases in the sources you use and strive for a balanced perspective by consulting multiple viewpoints.
In summary, with these critical skills in hand, you can make well-informed decisions and contribute to a more accurate and trustworthy information ecosystem.
By following these handy tips, you can easily identify reliable sources.
But if you are struggling to complete your annotated bibliography, don't worry!
Our professional writing service is just a click away.
Whether you need assistance with formatting, summarizing sources, or properly citing references, our annotated bibliography writing service will take the burden off your shoulders.